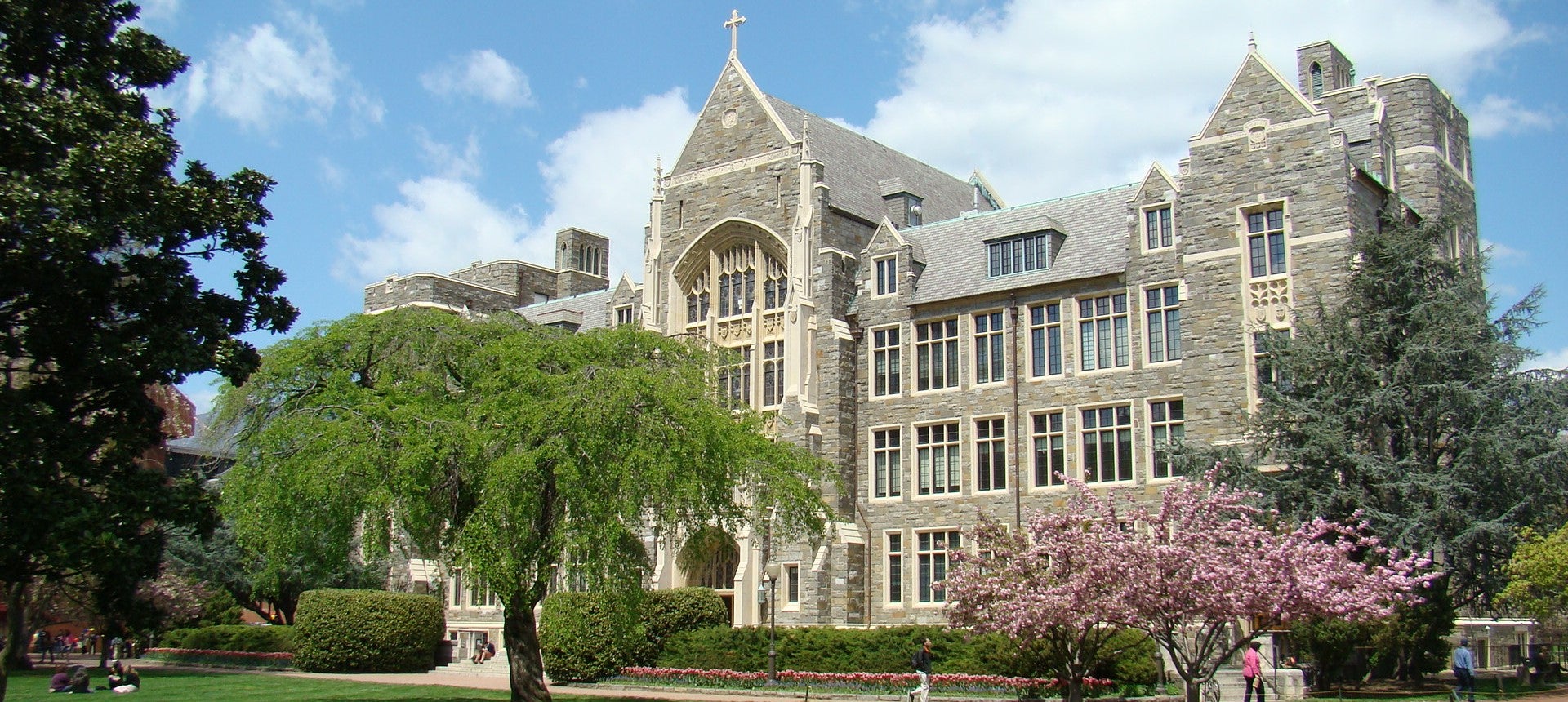 ---
Georgetown University, with its tradition of Jesuit education, a location in Washington, DC, and a distinguished community of scholars from around the world, is a vibrant place to live and learn. We are pleased you have chosen to learn more about the opportunities for undergraduate students that await you here at Georgetown. To ensure that you receive timely communication from our office, invitations to Georgetown events in your hometown area, we welcome you to join our mailing list.
Applying to Georgetown
---
We believe you will find Georgetown's application process highly personalized. Georgetown uses its own application for admission and we are able to coordinate an alumni interview for nearly all candidates. While a candidate's academic performance is the most important criteria under consideration, accomplishments outside of the classroom, demonstrated commitment to the broader community, and personal qualities such as resiliency, motivation and ambition are certainly considered. It is these qualities that make you an individual and someone who will uniquely add to – and benefit from – the Georgetown University community. We look forward to getting to know you.
Plan a Visit
---
To experience the university's rich environment, we invite you to gather with us online for a virtual information session and student panel. Please see the Visit Georgetown page to register for an upcoming event.
Commitment to Diversity
---
Georgetown actively seeks and recruits highly talented and motivated students from all backgrounds. The university enrolls more than 6,300 undergraduates from all 50 states and over 130 countries; approximately a third of all students are fluent in more than one language when they arrive on campus. Whether you hail from a small, rural community or a major metropolitan area – or somewhere in between – you will find a place among Georgetown's dynamic and talented community of students.
Georgetown's commitment to ensuring a diverse student body is evidenced through its need-blind admission process and its commitment to meet 100% of the demonstrated financial need for all eligible students. Every undergraduate applicant receives admission consideration without regard to his or her financial circumstances. Once admitted, every student will have his or her demonstrated financial need met in full. Visit Diversity and Access page of our website to learn more about the Georgetown's diverse community.
Related Links
College of Arts & Sciences
School of Health
School of Nursing
Walsh School of Foreign Service
McDonough School of Business
Undergraduate Bulletin
Overseas Studies
Financial Aid
Campus Map
Self-guided Tour
Join Our Mailing List
Georgetown Admissions Ambassador Program
Athletics
Georgetown Army ROTC
Georgetown University Accreditation