International Applicant
Application Procedure
Test Requirements
Financial Aid for International Students
Communicating With Us
Visa Information
Undocumented Students
Georgetown University, located in the heart of one of the world's most culturally and politically prominent cities, welcomes applications from talented international students who wish to join our exciting community. To personally introduce you to the range of academic and co-curricular opportunities at Georgetown, every year we conduct Information Sessions in several countries across the world.
Application Procedure and Deadlines
International applicants to Georgetown follow the same application procedure and deadlines as US citizens. All candidates (including non-US citizens or non-permanent residents) are reviewed without consideration of a student's financial resources. Thus, it is not necessary to send a Statement of Finances with your application. Plainly stated, our "Need-Blind" admissions policy applies to everyone.
Visit our First Year Application webpage to apply online or download the Georgetown Application. If you have difficulties to do so, please contact your regional admissions officer (listed below under Communicating with Us) and provide your name and complete mailing address so that an application can be mailed to you.
Test Requirements
Georgetown University requires submission of SAT and/or ACT scores as part of our holistic application review process. Candidates for admission should submit official score reports from the College Board and/or ACT.
As the COVID-19 pandemic continues to affect students throughout the United States and across the globe, Georgetown recognizes that some students may not have access to an open testing center. If this is the case, we encourage you to apply to the university without test scores. A form will be provided to you after the application due date (at Early Action and Regular Decision) to explain why you were unable to access a test center.

Additional information regarding our testing policy, and updates for international students, can be found below.
SAT (SAT Code 5244)
Students must submit an official score report from The College Board.
Georgetown only considers the Verbal (EBRW) and Math portions of the SAT in our review process.
The Committee on Admissions will consider the highest EBRW score and the highest Math score from multiple test administrations.
ACT (ACT Code 0668)
Students must submit an official score report.
Georgetown only considers the English, Math, Reading, and Science sections of the ACT in our review process.
Georgetown does not use the new ACT super score optional reports. Please send all individual ACT scores to our office from each ACT test administration as we are not a score choice school.
Subject Tests
As the College Board discontinued the SAT Subject Tests in 2021. SAT Subject Tests completed before their discontinuation should be submitted to Georgetown.

Applicants who participate in an A.P. (Advanced Placement) curriculum are encouraged to submit AP scores to supplement their admissions file.
Score Choice
Georgetown does not participate in Score Choice and requires submission of each applicant's complete testing record, including all SAT, ACT, and/or SAT Subject test scores. We remain firmly committed to a comprehensive and holistic review of all applications, and test scores are considered in their appropriate context.
Testing and Early Action
Please ensure the on-time arrival of your test scores for Early Action! Please do not wait for the release of October test scores to send your entire testing record to Georgetown.
Candidates applying under Early Action who sit for additional testing after the application deadline can identify future test dates on the Georgetown Supplement. Additional scores will be added to the candidates' application file and can be considered in the case of deferral to the Regular Decision review period.
English Language Proficiency Tests
Georgetown recommends, but does not require, results from an English language proficiency test for students who attend a school where English is not the language of instruction.
Georgetown accepts results from the DET (Duolingo English Test), IELTS, or TOEFL® (PBT, iBT® and IPT® Plus versions), to fulfill this recommendation.
Testing Information and Updates for International Students
As the COVID-19 pandemic continues to affect students throughout the United States and across the globe, Georgetown recognizes that some students may not have access to an open testing center. If this is the case, we encourage you to apply to the university without test scores. A form will be provided to you after the application due date (at Early Action and Regular Decision) to explain why you were unable to access a test center.
Final and Projected Examination Results
If you will graduate from a school with a final examination such as the British A-Levels, Cambridge Pre-U, German Abitaur, French Baccalaureat, or International Baccalaureate, you will need to submit both Projected and Final results. These should be included in the Secondary School Report sent from your college counselor, teacher or the Head of School.
Financial Aid
Georgetown University is Need-Blind for all applicants.
Admitted students who have requested financial aid and are not U.S. citizens or permanent residents will be considered for a very limited number of need-based scholarships. To be considered for one of these scholarships, the student/applicant will need to indicate their intent to apply for financial aid on the Application for Undergraduate Admission and should submit a CSS/Financial Aid Profile online at http://www.collegeboard.com. For further details, please see the Office of Student Financial Services website.
Whether admitted either under our Early Action or Regular Decision review periods, all candidates for financial aid will be notified about their eligibility for aid, their financial aid awards or about missing documents during the first week of April.
Please note that we are now using the CSS/Financial Aid Profile in place of the International Student Financial Aid form.
Communicating With Us
Due to time zone differences, we will initially try to communicate with you via email. Therefore, we strongly suggest you regularly check the email account you have provided us for any updates or requests from our office. Similarly, notify us if any change in email, address, telephone contact information.
In anticipation of some of the most commonly asked questions, we have provided details about the application process, deadlines, financial aid, testing, etc. These can be found either via the links immediately above or through the main admissions website. We strongly recommend you carefully read and review the information already provided on our website.
If after you have read the information, and you are still confused or encounter a very unique situation (difficulty sending documents, submitting the application, etc.), email your questions to the appropriate regional officer below, and please include the city and country where you attend school.
---
Latin America, Bahamas, Bermuda, and the Caribbean

Jaime C. Briseno, Senior Associate Director of Admissions
---
Africa, Canada, Europe, Middle East, and Central/South Asia

Kathryn J. Timlin, Senior Associate Director of Admissions
---
Australia, East/Southeast Asia, and Pacific Region

Heather Tom Kim, Senior Assistant Director
---
Additional Resources for International Applicants
Learn more about Georgetown Student-Parent Information Sessions abroad. Prospective students will learn about Georgetown University, diverse campus communities, and the variety of admissions & financial aid policies.
Visit the Office of Global Services website to learn about a wide array of services and programming for incoming and current international students.
Visa Information
All non-US citizens who plan to study in F-1 or J-1 status at Georgetown must indicate their requested status on the confirmation of enrollment form. In addition, students who need a Form I-20 or Form DS-2019 immigration document from Georgetown must apply for the immigration document by following the instructions at http://internationalservices.georgetown.edu/vsqoip.
The complete process of obtaining the Georgetown Form I-20 or Form DS-2019 and applying for the F-1 or J-1 visa takes a minimum of 6-8 weeks, and students are strongly encouraged to carefully review the instructions and begin the process as soon as possible. For questions regarding immigration requirements or the document issuance process, please contact the Office of Global Services (OGS) at newinternational@georgetown.edu. Students who will study in a status other than F-1 or J-1 do not have any reporting requirement and do not need to contact OGS.
Accepted international students will also be required to submit a recent Statement of Finances to our office.
Undocumented Students
The Office of Undergraduate Admissions welcomes applications from interested students across the country and the world. All candidates for admission should submit the Georgetown Application and Application Supplement, regardless of country of citizenship, immigration status, where the student resides or attends high school.
Please note that all information provided on the application is confidential. Therefore, undocumented students should feel comfortable providing as much information as possible on the application forms. Immigration status does not have an impact on the admissions process.
Our admissions process is need-blind (applying for financial aid is not a factor) and this policy applies to all applicants: U.S. citizens, U.S. permanent residents, foreign citizens, and undocumented students. Although federal financial aid is not available for undocumented students, you may qualify for a need-based scholarship directly from Georgetown. To learn more about the financial aid process, required forms, and deadlines, please consult the Office of Student Financial Services website at http://finaid.georgetown.edu.
To learn more about Georgetown's commitment to Undocumented Students (both prospective applicants and current students), please visit the website https://undocumented.georgetown.edu/.
---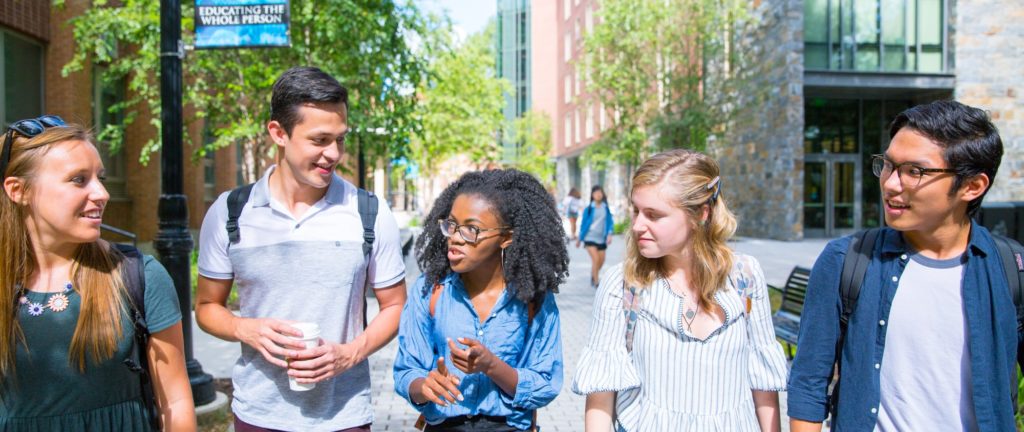 More Information
The Office of Global Services
Financial Aid
Join Our Mailing List
Georgetown Admissions Ambassador Program