Apply to Georgetown
---
We encourage you to join our Mailing List to stay up to date with developments on campus, and future events sponsored by the Office of Undergraduate Admissions.
The Office of Undergraduate Admissions encourages you to learn more about the admissions process by exploring the information provided on our website. Currently, you are able to apply as an undergraduate student in three different ways: as a first year applicant, a transfer applicant, or a visiting student. International students follow the same admissions procedures and use the same application as all other applicants to the university.
We encourage you to thoroughly read the important information about the application process, policies and procedures. If you are unable to find the information that you are looking for on our website, you may contact the Office of Undergraduate Admissions at (202) 687.3600 and request to speak with an admissions officer.
Georgetown University welcomes applications for admission to its undergraduate schools from students of character, intelligence, motivations and achievement, without distinction on the basis of race, gender, immigration status or religious preference. The University, through its Committee on Admissions, selects for its first-year class and transfer students that most likely to profit from the educational offerings of Georgetown. New students are admitted in the fall semester and for full-time study only.​
We believe that the college admissions process is a very personal experience which deeply affects the lives of our applicants. In order to fulfill our commitment to this holistic admissions process, Georgetown uses its own application, which allows our applicants to best express their personalities, talents, skills and accomplishments. The Georgetown Application benefits our applicants in many ways.
---
Our personalized application allows us to keep our applicant pool to a manageable size which guarantees that all applications will be read by a regional Admissions Officer who will apply his/her regional knowledge to the decision making process.
We are able to offer each applicant an alumni interview, which further personalizes the process by allowing the applicant to tell his/her story in his/her own words.
The Georgetown Application allows high school counselors and teachers to submit personalized letters of recommendation for our applicants.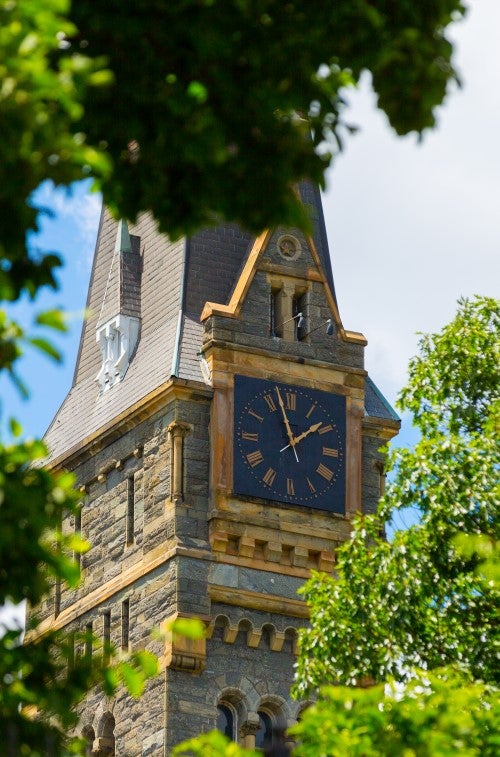 ---
Academics
Undergraduates at Georgetown receive a liberal arts education steeped in the Jesuit traditions of social justice and cura personalis, or "care of the whole person." The university is committed to helping students grow intellectually, spiritually and emotionally as well as encouraging them to become thoughtful and caring members of society who contribute to the greater good. In the classroom, discussions span the universe of human interest. No matter what their academic pursuits may be, all undergraduates explore broad intellectual horizons in one of five undergraduate schools:
---
Students are admitted to and receive their degrees from one of the five schools but can take classes offered in any undergraduate school. In fact, students are encouraged to think broadly and take an interdisciplinary approach to their education. Many students major in one school and minor in another, getting valuable experience of studying with students of every major and background.
Students are encouraged to enhance their classroom learning experience by taking advantage of Georgetown's location in Washington, D.C., holding internships on Capitol Hill, the National Institutes of Health, ABC News, The World Bank, The Smithsonian, Embassies, or with the myriad of non-profit and corporate groups involved with policy-making. Before graduation, 95% of Georgetown students have at at least one internship.

---
Student Life
With more than 6,300 undergraduates from all 50 states and more than 130 countries, Georgetown is a vibrant place to live and learn. Visit the Campus Life section of the University's website to find out more about the dynamic Georgetown community. It includes a wide spectrum of student organizations, sports teams and clubs, student publications and student activism in political and social causes. Community is further fostered through residence life, with more than 80 percent of students living on the University campus.
If you are interested in contacting a current Georgetown student, please visit the Georgetown Admissions Ambassador Program (GAAP) website to find one from your home state or country.